Growing businesses and eCommerce platforms frequently use OpenCart multi-vendor Marketplace extensions. Ever ponder how simple it is to convert your company into an online retailer today?
The simplest way to navigate is to use open-source technologies like OpenCart, which are compact e-commerce systems. So if you're trying to expand your web business into a multivendor e-commerce portal.
Your e-commerce store can improve as an online marketplace with the help of the OpenCart multi-vendor marketplace plugin. To improve efficiency, update your OpenCart store at the same time with OpenCart Multi-Seller Marketplace.
Amazon, Etsy, eBay, and other online markets are a few examples. These marketplaces provide outstanding seller management panels.
Are there Scalability problems with several sellers on your website?
I'm not sure if the OpenCart framework is what your website is made on. The core PHP framework or another framework may have been used to build your website.
OpenCart framework, however, is among the best platforms for small businesses. Because it merely offers a solid basis on which to develop your online store using OpenCart themes that are already built. OpenCart is one of the top eCommerce platforms available today for online retailers thanks to its broad range of features and capabilities.
Consequently, I like to use OpenCart for my own store and Knowband is an OpenCart Certified Partner who created the multi-vendor module for OpenCart. Your e-commerce store can simply expand thanks to the module integration, which is simple to set up on any OpenCart theme. It is a particular type of module that will increase the possibilities of your online store.
The Knowband OpenCart multi-vendor Marketplace module is one of many contenders for the OpenCart multi-vendor module on the list, and it has some of the best features.
Top 10 Reasons for Using Knowband's Multivendor Opencart Extension for Online Marketplace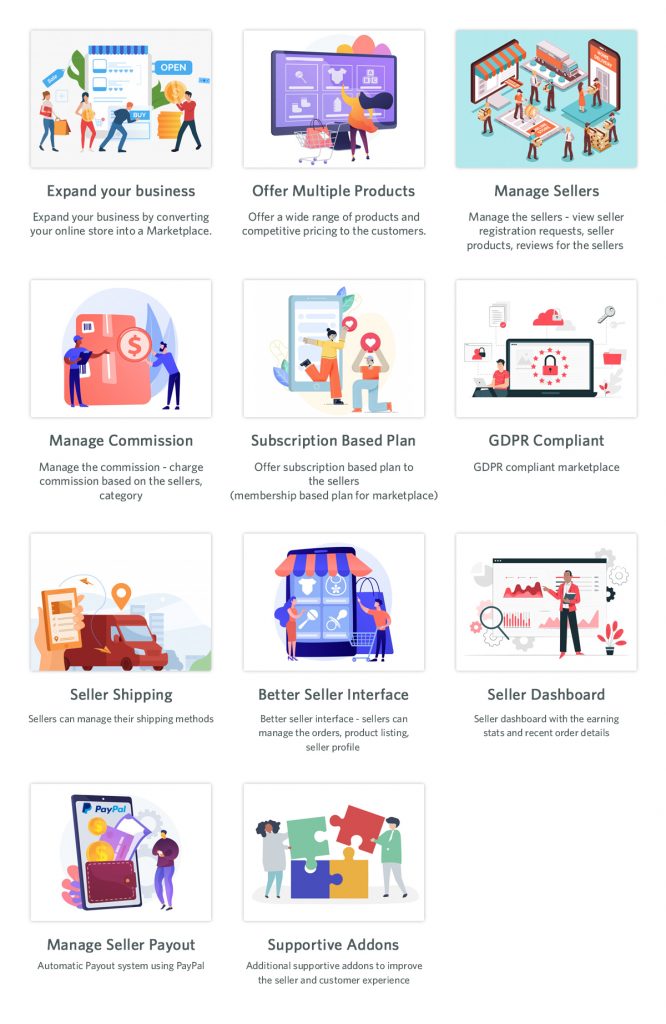 Knowband OpenCart Multi-Vendor is Cost-Effective
Comparing it to other marketplace competitors, it is one of the most affordable modules. It is excellent for start-ups who want to introduce their own e-commerce venture to the internet market.
Any OpenCart-based e-commerce store can use the Knowband Multi Vendor OpenCart Extension. The Multi-Seller Module expands its functionality by transforming an eCommerce business into an entirely functional multi-seller platform. Therefore, it is ideal for business owners and entrepreneurs from a variety of industries who want to expand their online marketplace.
The Multi-Seller Module also tends to combine with any OpenCart themes that lack all versions that are readily available. Additionally, it is advantageous to both parties for any vendor that develops business plans for selling their goods online. The seller gets their own seller panel to oversee their merchandise, see orders, and process client orders.
Totally Free Setup and Support for 3 months:
A straightforward and user-friendly multi-vendor module for any OpenCart theme is Knowband OpenCart. With the help of this module, you may see the list of OpenCart Multi Vendor extensions that are supported.
It comes with straightforward implementation documentation and is very simple to use.
Quick assistance and fast delivery
No-cost installation service
Get Immediate Alerts and Notifications:
Email notifications are gradually integrated into the multi-vendor Knowband OpenCart Marketplace plugin.
For instance, the seller and super admin receive an email every time a consumer orders goods. Consequently, you can turn on notifications for clients' international activity. Additionally, the admin has the power to modify the text of emails as needed.
Easily Manage the Knowband OpenCart Multi Vendor Seller Panel

The Seller Panel is one of the extensive features built within the Knowband OpenCart multi-vendor module. The enormous online marketplace includes the seller panel, where each vendor may set up his or her own account.
To start selling products from your current store instantly online, the seller can create an account and begin uploading their products. However, the admin is well within their rights to endorse or criticize a vendor and their goods.
Additionally, each vendor has access to a unique dashboard and profile.
Super Administrator Dashboard to Manage Seller Activity
The admin dashboard offered by the Knowband OpenCart multi-vendor module gives the seller's data more control. Admins, therefore, have the power to accept or reject any seller's account.
Once the admin has given his approval, categories and products can go online. The admin may monitor each seller's orders, earnings, and customers from the dashboard.
Multiple Languages Supported

Whenever the online market is involved. The questions connected to buyers and searches may originate from many nations and continents.
As a result, using their well-known linguistic preferences is the greatest approach to draw consumers from all over the world, according to your OpenCart themes.
As a result, Knowband OpenCart multi-vendor supports over a hundred different languages for users to interact with your eCommerce website. Furthermore, it is adaptable to run on any OpenCart themes.
Support for Multiple Stores with Seller Login & Customization
A virtual market Infinite seller panels are supported by the Knowband OpenCart multi-vendor module. This makes your online store the biggest online marketplace for selling, which maximizes ROI.
The option to post an infinite number of products is available to every vendor. Additionally, all sellers are able to store subscription-based goods, and both the admin and the seller can avail themselves of the advantages of recurring income.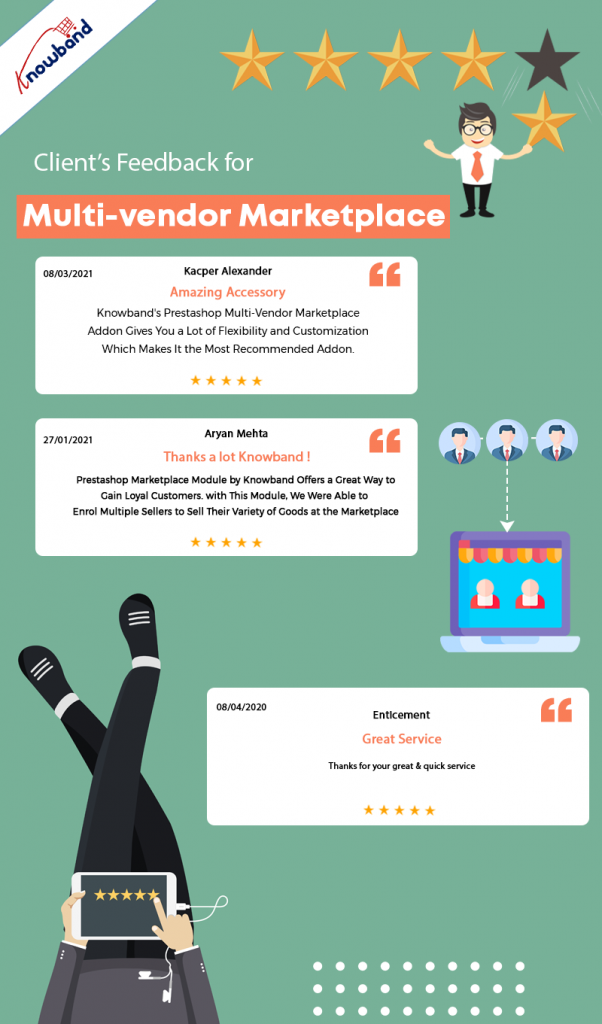 Therefore, multi-store features let you be more visible in online commerce. The super admin can use the custom page provided by this multi-vendor OpenCart extension to modify the seller panel.
Only Super Admins have the option of controlling the seller panel's front panel view. Additionally, as needed, the super admin can add new fields like combo boxes and text boxes.
Easily Set Commissions
When you have several vendors selling a variety of goods across various categories, commission setting is very crucial. Additionally, the multi-vendor plugin for OpenCart by Knowband offers simple and understandable guidelines for allocating commissions to all vendors and sellers.
For each seller in a certain product category, the administrator can specify a separate commission rate. Additionally, sellers can impose restrictions on their uploaded goods by establishing fixed or proportional commissions.
Additionally, the store administrator can set a separate commission rate for each online category. The multi-vendor OpenCart plugin is everything your website needs to manage the multi-seller platform.
Supports all OpenCart themes and is 100% responsive
Any online store's mobile responsiveness is not a novel concept in the modern world. The internet revolution is underway, and mobile and tablet devices provide countless options.
Whenever we see any social media reporting, a larger rate of engagement comes from mobile devices. In order to meet the expectations of clients and suppliers, all OpenCart themes in use today are responsive.
It facilitates quick product searches and order placement by clients using any device. All sellers also receive a responsive front-end interface to view all orders and sales.
Completely SEO Friendly

Your items and services will be seen more widely if you use search engine optimization. In order to meet the needs of content optimization for your online store, the Knowband OpenCart multi-vendor Marketplace module comes with SEO capability by default.
With the help of this module, you can add meta-text and meta-description content to your goods and categories. Any seller can easily optimize both their product and its content. And I'm hoping the Knowband OpenCart multi-seller marketplace is a terrific starting point.
However, you can also check for additional multi-vendor OpenCart extensions that are comparable in the market. Consider money, features, and requirements when evaluating demos to determine which is best for your company.
Summary
The above article covers the fundamentals of how an OpenCart multi-vendor Marketplace extension can change your eCommerce marketplace. And I'm hoping the Knowband OpenCart Marketplace extension is a great starting point.
Consider budget, features, and requirements when evaluating demos to determine which is best for your company. Get in touch with us at [email protected] to know more about the installation and working of the OpenCart Marketplace module.