The companies that operate numerous brick-and-mortar stores, as well as online websites, are the ones that most frequently use the store locator and pickup services. The click-and-collect service boosts traffic to your shop and develops both an online and offline personality. After reading this post, you will be glad that the store locator and pick-up module allow you to establish a curbside business or find a strategy to attract more customers during the Christmas season.
Store Locator And Pickup
Customers can purchase Store Locator And Pickup from websites with several storefronts. The reason why companies should employ the store locator and pickup model is now under dispute. As previously said, it increases store traffic, which lowers the additional cost.
The store locator and pickup are relatively new, yet many businesses prefer them because of the advantages they offer. First off, it reduces the time and cost associated with logistics. Also, it enhances the client experience while ensuring that the supplier meets their expectations.
By utilizing the store locator and pick-up module, small businesses are also utilizing Store Locator And Pickup to their advantage in addition to the major names. The ideal time to launch this service on your website is during the holiday season. Store locator and pickup increase online traffic while also bringing more clients into your physical business.
In-Store Pickup is a chance to Grow your Company

Having said that, there are numerous ways in which you might profit from this new service in your store. As I already indicated, since the consumer will be picking up the order at your door, you will spend less on delivery services. Services like "buy online, pick up in store" guarantee that the products will be delivered to the customer within the specified window of time without any delays.
If a buyer buys something online, there's a chance they'll later decide they don't like it and want to send it back.
With the In-Store Pickup, this won't be true
Customers can view the merchandise on their own and make decisions right away. As a result, you won't have to worry about managing product returns for your online store. Additionally, post-holiday returns are decreasing.
More foot traffic also means more sales. Although many clients are hesitant to buy online, there is a chance that you can upsell them when they visit your retail location.
Obtain In-Store
The benefits of using this service for your company are explained above, however, during the holidays, sales volume and average order value are higher than usual. The number of return orders can rise as a result of this. The rate of returns will naturally decrease if you offer in-store pickup since the customer may see the item while picking it up.
Offering this can also assist you in upselling the products since holidays are a period when sales are at their highest.
How does the Pick-up and Store Locator Addon for Knowband function?

The store finder module assists the client in choosing the location of the closest store to pick up their order if a retail outlet has many locations in a given area.
A firm with a chain of stores in several cities can implement a store locator and pickup module on its website and identify the locations of all of its outlets. They also have a number of retail stores and an online presence.
Understanding the Store Pickup Extension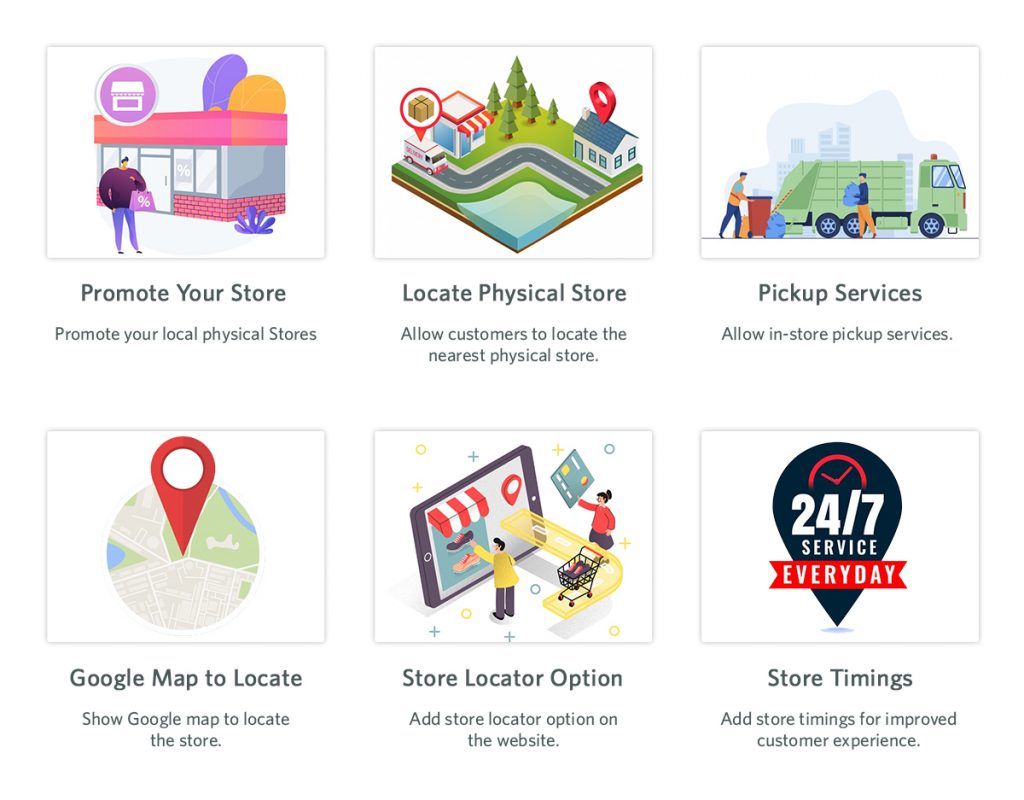 The store locator and pickup module make difficult chores easier for you, and thanks to their capabilities, both customers and sellers may accomplish their goals in a few easy steps.
Any non-technical person may install and configure this plugin with ease.
As it is integrated with Google Maps, the store manager can add the locations of each of their numerous outlets.
Any consumer entering the store must select the pickup location, the pickup date, and the pickup time.
An order summary will be included in a notification email sent to the appropriate store.
Using the plugin, any online store created on these platforms may offer in-store services by positioning their retail locations to increase foot traffic and customer satisfaction. To know in depth about the functionality and working of the Store Locator and Pickup module, feel free to get in touch with us at [email protected]