A highly customizable open-source eCommerce platform that offers a robust administrator dashboard providing an at-a-glance view of important metrics is Opencart. The important metrics include sales, customers, and more. Moreover, this platform has no monthly fees.
Furthermore, OpenCart platform offers multi-store support. This allows merchants to stay on top of several and different stores from a single interface. Perhaps, this functionality offers various features such as setting products for different stores, using specific themes for each online store. Moreover, store owners can localize websites with the help of this functionality.
Speaking about the product options and attributes, Opencart offers flexible product options and attributes. Opencart is recommended to store merchants due to various great features, two of which are- customizable and extendable. To create your site, merchants can use more than 1300 modules and themes.
Opencart extensions especially Social Login for OpenCart increase sales on social media. This article will help you understand the extension better.
Social Loginizer – OpenCart Extensions
Social Login for OpenCart allows e-merchants to offer a simple and quick login alternative to online clients. Further, this extension permit displaying eight different social login options on the different website pages. Including Facebook, Google, and Twitter, etc.
Moreover, the extension helps in increasing the registration rate of your website. As a result, online merchants can register and login to the website easily. They can easily log in using an existing account if they don't want to create a fresh account.
Social Login for Opencart on your site generates easy leads for your business. This can be used in re-targeting and re-marketing to expand the sales of your online business. Moreover, this plugin permits your guests to sign in to trusted social media network organizations. Moreover, the module even allows clients/guests to access the site quickly. Furthermore, the simple and quick login during checkout can also help in diminishing the cart abandonment rate for your online store.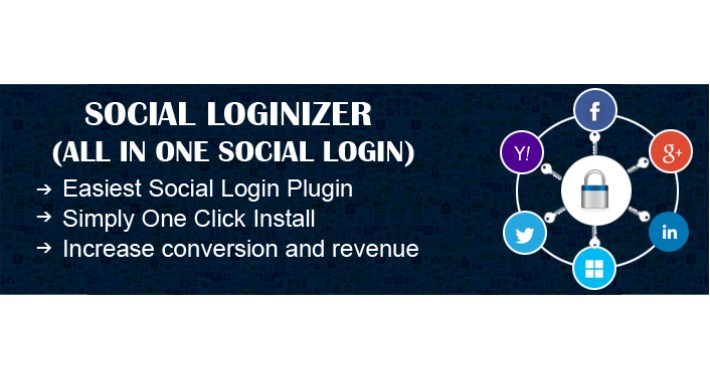 Features of Opencart Social Login extension:
Social Login for OpenCart offers easy to use interface:
Opencart Social Login extension offers a simple and basic interface leading to a better experience for the site's guests. Moreover, the plugin saves guests from complex and time taking registration processes.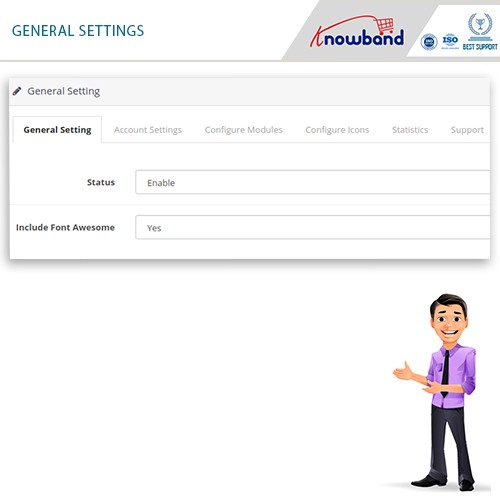 OpenCart Social Media Login extension offers Quick Installation and Configuration:
This module is not only easy to install but configure as well. Furthermore, the installation of this plugin requires no coding or specialized information. All the processes can be done effectively from the back-end of the module.
Social Login Options for OpenCart is Mobile Responsive:
Since the clients on mobile phones are expanding day by day. Therefore, every store owner must have a mobile responsive website. This extension, Social Login for Opencart is mobile, desktop as well as tablet responsive.
Activate or deactivate social accounts:
Eight social login network alternatives are offered by the OpenCart Social Media Login extension. Moreover, the online merchant can choose the ideal social networks and activate them on the required site pages.
Offers Multi-store compatibility:
The extension is even multi-store, multi-lingual and multi themes compatible. Furthermore, the extension matches the needs of each online business.
Opencart Google Login module offers Easy Customization:
Opencart Google Login module permits the admin to customize the title for social login options. Moreover, the admin can design layout, social login button placement, sort order and status from the admin interface.
Icon Configuration:
The online vendor can design icons from the admin interface of this OpenCart Facebook Login extension. Here, the admin can set the icon type, hover effect, button alignment, and button color as well. The extension even permits setting a specific color for all the icons.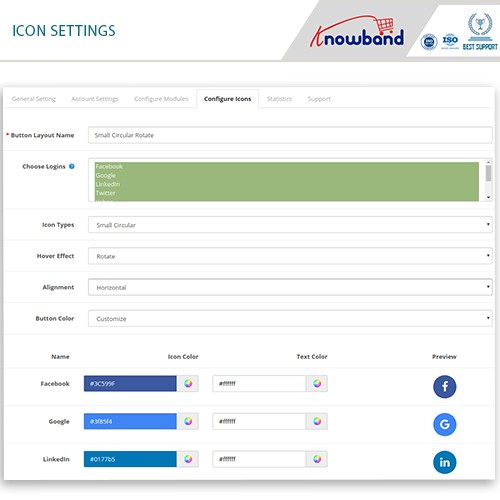 1. Opencart Social Media Login extension offers the 8 most famous online media login options that guarantee simple and quick login by the clients. Further, the plugin enhances their experience on your site.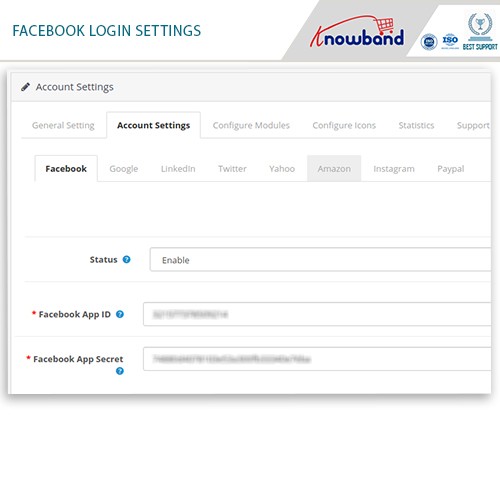 2. Th module permits the store admin to set the position of social media icons accordingly.
3. Permit store merchants to change the look as well as the feel of the social login choices by selecting the icon color, size as well as hover style.
Why Knowband?
Knowband creates best-in-class plugins for different platforms, including Opencart. Knowband even offers 24*7 customer service hence for any query, merchants can drop a mail at [email protected]