The Covid-19 worldwide epidemic has put people in a variety of challenging situations. when there were no sources to order the daily necessities like groceries because of the lockout. The online company recognized the value of hyperlocal businesses.
People were helped throughout the difficult times by more than just hyperlocal eCommerce companies. Additionally, they greatly aided clients in meeting their everyday product needs. Hyperlocal online marketplaces are evolving into the preferred method of online shopping even after the COVID epidemic. Various offline grocery stores and other companies, on the other hand, are listing their hyperlocal enterprises online. We'll talk briefly about the factors contributing to the success of hyperlocal marketplaces in the piece that follows.
But first, let's talk about what hyperlocal marketplaces are and how their workflow works for eCommerce. Then we'll get to the reasons.
What Exactly is Hyperlocal Marketplace?
The first image that comes to mind when hearing the term "marketplace" is an online storefront with numerous vendors offering their wares. We can use eBay, Amazon, and Flipkart as examples because these platforms enable sellers to display their goods and sell them to customers around the world.
The sole distinction between the marketplace and a hyperlocal marketplace is that the latter offers services to a very limited geographic area. The hyperlocal marketplace is a type of marketplace as well.
A hyperlocal marketplace also allows different online retailers to list their stores and sell their goods, similar to other marketplaces. The store admin will ultimately be in charge of overseeing the entire procedure. Additionally, hyperlocal marketplace administrators receive a small portion of the revenue from the vendors in return for allowing the sellers to sell. For additional information, you can also look at the Knowband PrestaShop Hyperlocal Marketplace Addon.
Why are Businesses in Hyperlocal Marketplaces Popular?

The popularity of hyperlocal internet marketplaces is due to a number of factors. For instance, marketplaces promise vendors the greatest price while also providing speedy delivery services.
Option to Order from Various Sellers
Customers Have the Option to Order from Various Sellers on Hyperlocal Marketplaces. Offering customers the opportunity to order from multiple sellers is one of the main draws of hyperlocal marketplaces. If a client can't find the item they want on a seller's ad, they can click on the next one. Additionally, they will have the chance to select from a variety of sellers.
As a result, hyperlocal marketplaces give possibilities to compare offerings from a wide range of sources, in contrast to offline marketplaces.
Quick Order System:
Online orders typically take two to three days to arrive. Hyperlocal online stores, on the other hand, dominate the competition. For instance, if you order food from an online store, it will typically take 20 to 30 minutes for the packages to arrive at your door.
So the speedy order procedure is yet another factor that contributed to the popularity of hyperlocal marketplaces and drew users to the platforms.
A strong customer care system is essential for any company looking to build client loyalty. Hyperlocal markets succeeded in building brand awareness and consumer loyalty by employing the same strategy. However, some markets are restricted to a certain area or zone. However, the possibilities of maximizing your prospects in the market increase if you correctly place every ounce.
What kind of Enterprises can utilize Hyperlocal Marketplaces for Commercial Purposes?

Food-based Businesses: 
Hyperlocal markets can be the best option for you if you are an offline vendor wishing to launch an online business. Not only may you register your business online, but you can also allow other merchants to register their products on your behalf and receive a commission payment. For instance, let's say you want to launch a hyperlocal market. The Knowband PrestaShop Hyperlocal Marketplace module is another option.
There is a one-time payment option available for the module. So, feel free to pay a monthly or yearly charge to use the module.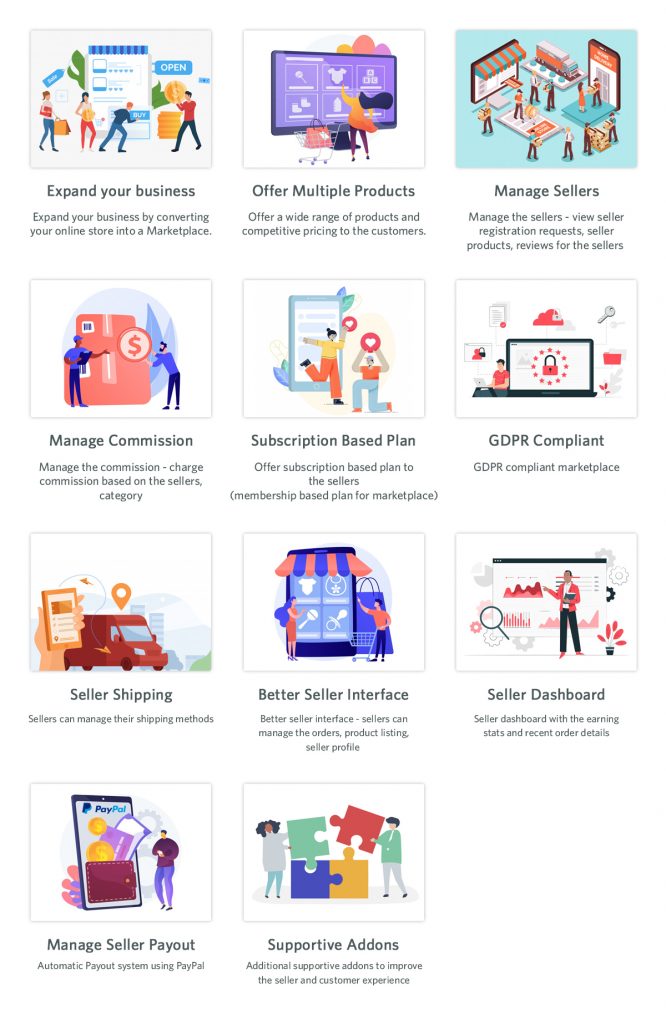 Grocery Businesses:
Similar to food-based businesses, grocery businesses are another type of business specifically designed for hyperlocal marketplaces. This type of company operates successfully in a specific geographic area. Consequently, building an online hyperlocal marketplace with grocery-based internet enterprises is the second possibility.
Pharmaceutical Businesses:
The online business market has always had a large scope for the pharmaceutical industry. Not only that but there are several online firms that offer services like selling drugs. Therefore, the concept is sound if you're searching for a pharmaceutical company built on hyperlocal marketplaces.
Additionally, there are many other ways to launch a hyperlocal marketplace. As a result, if you intend to start one but lack any coding knowledge. Always keep an eye on Knowband's hyperlocal marketplace designed for PrestaShop vendors. Get in touch with us at [email protected] to know more about the installation and customization features offered by us.