KnowBand has made an imprint in the eCommerce industry as a main mobile app provider for almost all the major eCommerce platforms and it's Opencart Mobile App Creator is the simplest way to create feature-packed OpenCart Mobile Apps in just 3 simple steps. One, start with purchasing the OpenCart Mobile App Builder extension. Second, share the specifications and requirements which are app-related and third, you will get your own native Opencart apps in 2-3 days.
Opencart Mobile App Creator is a module full of various advantages such as multiple shipping and payment methods. It is multi-lingual compatible, Zopim and Whatsapp chat service etc which are essential for an online store admin. Features that make Opencart Android app maker one-of-its-kind are- user-friendly interface, Multi-lingual and RTL support, one-page checkout etc.
Features Of OpenCart Mobile App Builder
1. OpenCart Mobile App Builder Offers User Friendly Interface
User- friendly interface category consists of options such as quick login options, OTP and Fingerprint and Add to Cart Navigation. Moreover, the features that makes it unique are Multi-Lingual and RTL Support. The OpenCart Mobile App Maker supports various languages and various RTL writing styles like Hebrew, Arabic, Urdu etc. in the mobile applications. Because of this feature, all the regional scale businesses can grow globally positively. With the help of Opencart Mobile App Creator store admin can target worldwide audience.
2. OpenCart Mobile App Maker Offers One-Page Checkout
The OpenCart Mobile App Builder offers a single-page checkout screen in the mobile apps leads to smooth purchase of the product for the front-end users. Moreover, the OpenCart Mobile App Maker leads to easy order creation which helps in reducing the cart abandonment rate. Also, this upgrades the functionality of the app for seamless order submission.
3. Provides Multiple Shipping Options
It is not compulsory that a single shipping option delivers to every country where you deliver products. Therefore, Opencart Mobile App Maker offers all sorts of shipping methods. Including FedEx, Store Pickup, USPS etc. are supported on the mobile apps by OpenCart Mobile App Builder.
4. Opencart Mobile App Builder Offers Unlimited Push Notifications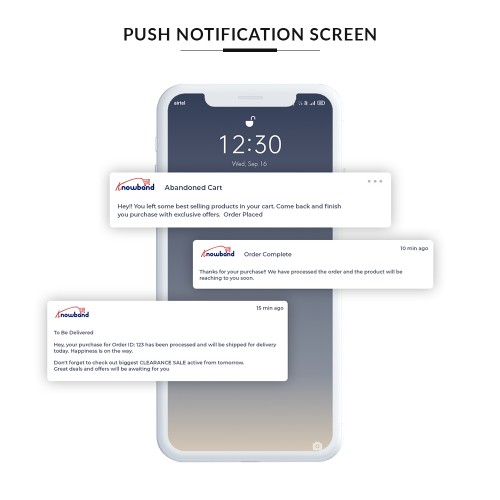 One of the most important of OpenCart mobile apps is the Push notifications feature. This feature helps store admin to send unlimited push notifications to the app users that leads to an increase in sales and revenue. Three types of push notifications are being offered with this module – Order Creation notification, Order Status Update Notification and Abandoned Cart Notification.
5. Connects Your Web- Store With Mobile Apps In Real-Time
When the store admin makes changes from the backend, all those updates/changes will be shown on the mobile apps. OpenCart Mobile App Builder keeps admin free from manual update because of the robust sync between the website and the apps. Furthermore, this module connects your ecommerce website with mobile apps in real-time.
6. Provides Layered Navigation
Since, the OpenCart Mobile Apps accompanies upgraded layered navigation therefore the application browsing becomes simple for the store admin. Sorting of products and multiple filtering- both are also allowed in mobile apps. This offers an effortless browsing to the clients.
7. OpenCart App Builder Permit Admin to Design Home Screen Accordingly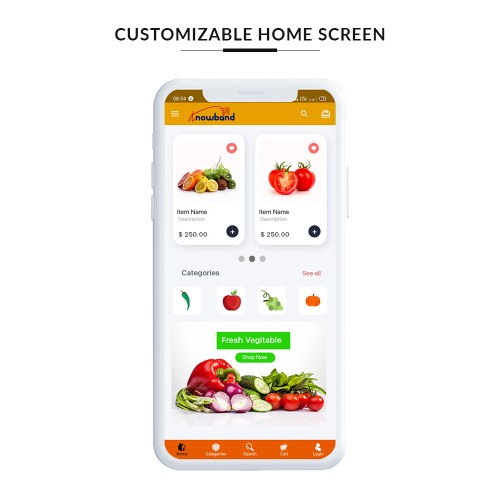 Our OpenCart Mobile App Maker accompanies an adjustable home screen include. The store merchant can easily design different attributes from the back end right from situating the components to transferring the standards. The store admin can use them accordingly and whenever needed.
Conclusion
Thus, opting for an Opencart Mobile Apps for e-commerce platform is always beneficial. furthermore, for the smallest query, they have inbuilt 24*7 Zopim chat service. Using this service, the online shoppers can directly contact the store merchant. This module also offers a Whatsapp chat option as well. The immediate assistance provided to mobile shopper by the store merchant.
The OpenCart Mobile Apps are the need of the hour. Earlier, the shopping apps were just a luxury. Nowadays, the same is mentioned as an unavoidable need for every eCommerce store. For all store merchants out there, in case you haven't launched the app OpenCart Mobile App yet, this is your most favorable chance.
The Android & iOS Native Mobile App Builder is also available for PrestaShop and Magento 2 eCommerce platforms.