To reach a wider audience, your eCommerce store must support several languages because that leads to a better shopping experience. Further, the option of changing language and currency is important because that helps in connecting people wordwide. Hence, OpenCart Auto Switch Language And Currency is recommended. A dedicated website in various dialects will help you support the recognizability of your company, services, and items in foreign markets. The plugin even permit you to accept different types of currencies in your web store.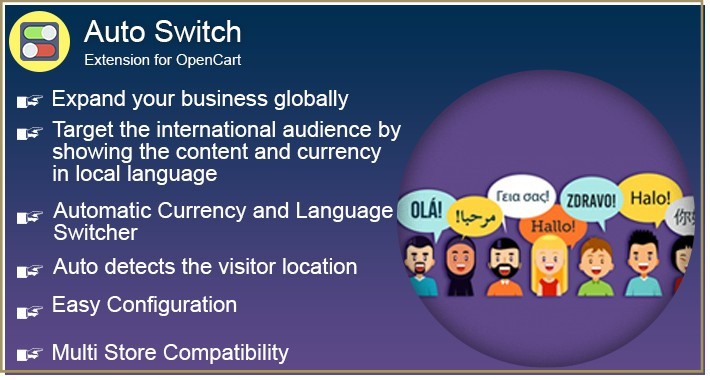 Clients consistently prefer to purchase something from shops where store owners communicate in their language to people they know. The case is quite similar in online eCommerce stores as well. Building a multi-lingual store instantly creates the trust of the visitors visiting your store. Therefore, the OpenCart auto switch language and currency by Knowband is recommended to store owners.
OpenCart auto switch language and currency
The OpenCart auto switch language and currency Module helps in changing the language and currency of the store based on the client's location. This module performs this task automatically. The OpenCart auto switch language extension fetches the client's location using the system's IP address. Using this module, e-merchants can show store details as well as product descriptions to clients in their preferred language.
Features Offered by OpenCart Auto change language and currency Module:
Based on the client's location, OpenCart Auto Change Currency Module automatically switches the Language and Currency of the store.
 To fetch country and region details, the OpenCart language and currency switcher module uses the client's IP address.
Furthermore, this OpenCart language and currency auto switcher plugin are compatible with the secure sockets layer(SSL).
Compatible with different OpenCart themes as well as different languages.
 Offers multi-store compatibility.
OpenCart Auto change language and currency permit admin to set common language and currency for all the countries.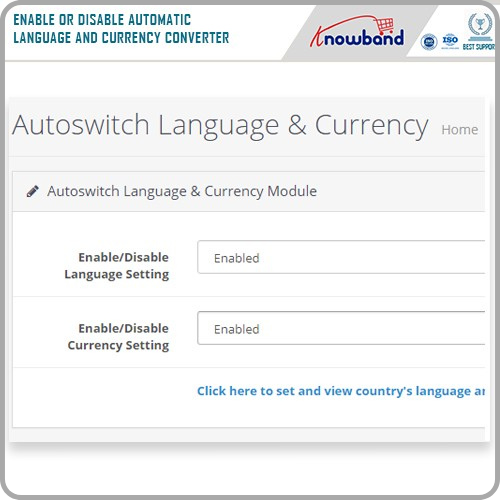 Benefits Offered to the Merchants
To implement the auto-switching language and currency functionality, store merchants can also implement OpenCart language and currency switcher module.
OpenCart admin simply needs to set Language and Currency single time. It is a one-time cycle of language and currency set.
With the help of OpenCart Automatic language and currency converter, merchants can provide a better store experience to clients visiting eCommerce stores. Further, this extension provides store details in the client's preferred language and currency, due to which he/she can shop easily.
OpenCart language and currency converter also increase conversion rate. Furthermore, the extension helps store admin to offer products to worldwide audience without any language and currency hurdle.
 Benefits Offered to the Users
When store admin installs this extension on their eCommerce store, online clients can view the store details in their language, leading to instant purchases. Furthermore, this extension allows users to view prize details in their preferred currency type. 
Shopping becomes easier for online clients as they can shop from the website without any language and currency issues.
Conclusion
 Automating language and currency switch functionality on their stores becomes easier for merchants once plugin get installed. The store owners can easily to install and configure this plugin. Moreover, this plugin is recommended to store merchants as Knowband extensions result in better functionality of your eCommerce store.